WEELDUIT Home Maintenance Plans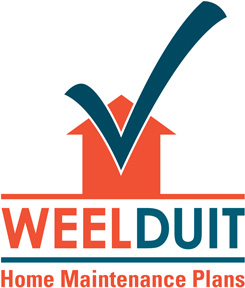 Is your house becoming too much of a burden? Or maybe you just don't have time to deal it. Give us a call...WeelDuit can help. WeelDuit, a service of Everything Under the Roof, is now offering an affordable solution that will relieve you of all your home maintenance burdens, and give you peace of mind knowing that everything is taken care of for you.
WeelDuit Home Maintenance Plans give you the convenience of condo living in your home. What does that mean? It's simple… you tell us what you don't want to do around the house or in the yard, and we'll take care of it. The price you pay is dependent on what you want done. All the services you choose are bundled into one maintenance package and payable over a 12 month period...interest free. You have one contact person and one bill to pay for all the services. All contracts come with an EMERGENCY Service hotline, so if there is an unexpected problem around your home - call us and we'll take care of it.
Let's look at an example:
Homeowner A decides he doesn't want to mow his lawn. He contacts a landscaper and agrees to pay $35 per mow*. For weekly lawn service from May to Oct., Homeowner A will pay 6 monthly payments of $140 per month (for a total of $840).
Homeowner B decides she doesn't want to mow her lawn either. She calls Everything Under the Roof. We also quote her $35 to mow her lawn. Then, after reviewing Everything Under the Roof's complete Menu of Services, Homeowner B decides she also doesn't want to clean the gutters, do fall leaf clean up, or plow her driveway in the winter. So Homeowner B's Home Maintenance Contract works out like this:
Lawn service: $35/mow from May - Oct., for a total of $840*
Gutter cleaning: $100*
Fall clean up: $150*
5 pre-paid snow plows (@ 35 each): $175*
Home Maintenance Contract total: $1265 - divided into 12 monthly payments, for a total of $105.42 per month
*Prices based on a 2 bedroom ranch on a ¼ acre lot.
Download a introductory brochure about our Home Maintenance Contracts
Menu of Services
Annual & Routine pest control: Keep your house free of carpenter ants, termites, and all other pests that can damage your home.
Annual Home Inspection: Don't know what you really need? Our 3rd party home inspector will provide you with an unbiased report on the status of your property. NOTE: The home inspector is not an employee of Everything Under the Roof, LLC.
Emergency Service Hotline: If something in your home goes wrong - call us. We'll send one of our licensed professionals to take care of it.
Gutter cleaning: Keep your gutters clean and free from debris to keep water flowing away from your house, and prevent flooding and ice damning.
Landscaping:

Mowing & Trimming
Mulching & Seeding
Spring & Fall Clean-Ups
Tree pruning

Window cleaning
Pool Cleaning & maintenance
Power-Washing: Get rid of mold and mildew on your house, decks, roof, steps & sidewalks.
Snow Plowing
Snowbird Service - monthly: Have peace of mind while you are away knowing your house is being looked after by a team of professionals. This comprehensive package includes weekly inspections of your mechanical systems, signs of weather damage, and routine security checks of all potential points of entry.
Vacation service - weekly: We'll care for your flowers/plants (inside and out), pick up packages, and put the trash out.
Add-on services:
Appliance Repair: If it's broken - don't just throw it out! Maybe we can fix it. We can also prevent damage by cleaning dryer vents and calibrating oven settings.
Computer Support & Networking: Technology is great...when it works! Don't get frustrated, just call us and we'll arrange to have your computer up and running in no time.
Electrical: New lighting fixtures, wiring or emergency services
Extermination: Unplanned visitors? We'll get rid of them.
Generator Installation & Maintenance: No more sitting in the dark after a storm.
Handyman: Honey-do list getting longer and longer? No problems, we'll send over the handyman to fix it.
HVAC: Heating and air conditioning installation, maintenance and repairs.
Interior Design: Need a whole new look, or a redesign using your own furniture, or just a consultation?
Key Service: Don't have 4 hours in the middle of the day to wait for the cable guy? No problem - we'll let him in, go over the scope of work and inspect the services provided.
Painting: Inside or out, one room or the whole house.
Pet Care & Dog Walking Services: If you are gone for a long day, or a short vacation - we'll care for your pets.
Plumbing: New faucets, clogged pipes, or emergency services
Professional organizing: Can't fit the car in the garage? Need help clearing out the closets for a change in season?
Renovations: Want to update your kitchen, bathrooms, or basement? We'll help you improve Everything Under the Roof!
Tiling: Floors, walls, tub surrounds, or backsplashes.
Tree removal: Large limbs or entire trees
Services on the Maintenance Items list can be requested as a one-time service. Items listed on the Add-On menu can be included in your Home Maintenance Contract, with the exception of individual services valued at $1000 or more (renovation projects, etc.). Separate payment plans are available for these items.
Need something not included on our list? Call us anyway. If we can't take care of it - we probably know somebody who can. All of our professionals are licensed and insured. References available upon request.